'Anime websites' is the most searched keyword on Google. It gets more than ten million hits per month. A lot of people love watching Anime shows. However, very few people wish to pay money to watch them. Hence, people search for the best free anime streaming.

If you are looking for the best Anime streaming websites, then get yourself some popcorn to watch your favorite shows. Here are some best anime websites.

List of Best Anime Streaming Websites:
Streaming Anime websites for free could be questionable. Hence, you should prefer using VPN services while watching Anime for free.

Crunchyroll is a legal website to stream Anime. This website is an American distributor, publisher, and licensing company, which lets you stream Anime, manga, and drama.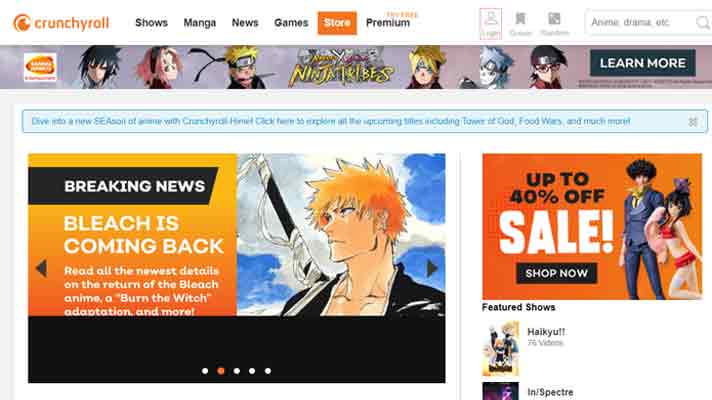 The website lets you watch your favorite Anime for free. While it provides an excellent 720p quality videos, in some cases the quality might degrade to 480p.

Crunchyroll supports a lot of languages like English, Deutsch, Italiano, and more. So you can watch your favorite show with Dub and subtitles as well.

You can either watch it without an account for streaming or can create an account to keep track of your watched shows. With an account, you will be able to add shows to watch in the wishlist.

This one is also an American entertainment company that provides dubbing and distribution of foreign shows, including Anime.

Funimation offers both free and paid services for Anime fans. The free version will let you watch selected shows for free, and you have to tolerate ads. With the paid version, you can watch any show and the latest Anime without ads.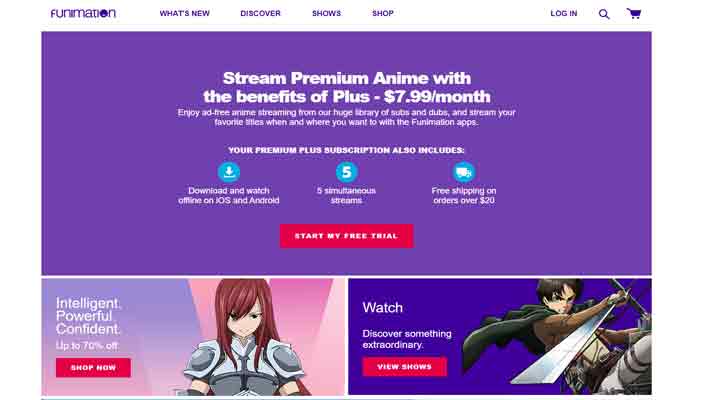 Funimation will show you related anime recommendations based on your searches and interests. You might need a VPN for this one as it is not available in some parts of the world.

With Kissanime's faster and high-quality server, you can watch your favorite shows in HD quality. Shows are available in all qualities from 240p to 1080p; you can pick one based on your preferences.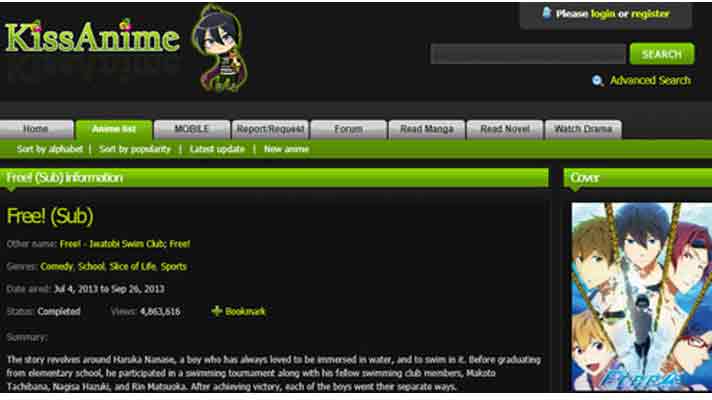 They have all older shows as well as new shows in dubbed and subbed English versions. You can stream your favorite Anime without a premium membership. It also has a feature to bookmark the episodes.

Kissanime will let you pick a show from a different genre like romance, action, comedy, horror, adventure, and more. You just have to register for free to enjoy the shows.

Kissanime is not a legal website. However, viewers don't have to worry about it. You can stream the shows, but it's recommended not to download any content from them.

GOGOanime is available in all parts of the world for free streaming. It has almost seven fast servers to choose from.

With its default VIDSTREAMING server, you can download the full episodes of your favorite show. GOGOAnime offers a lot of anime movies and shows in different genres.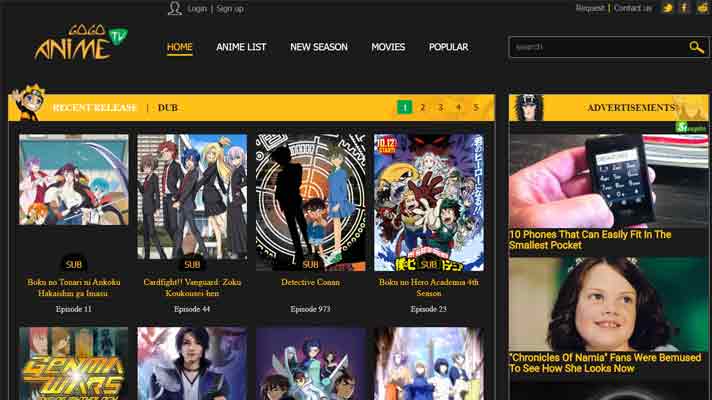 If you are wondering whether GOGOAnime is legal, then the answer is No. It does not have any rights for free anime streaming. But as a viewer or watcher, you don't have to worry about that.

It's highly recommended that you don't download any show from the GOGOAnime streaming site. Prefer streaming it online.

The best part about 9Anime is you don't have to register even for free access. Just visit the website, and you are good to stream.

The Catalog of 9Anime has various shows under different genres like drama, action, and more. The video loading stream of 9Anime is faster, even for HD videos.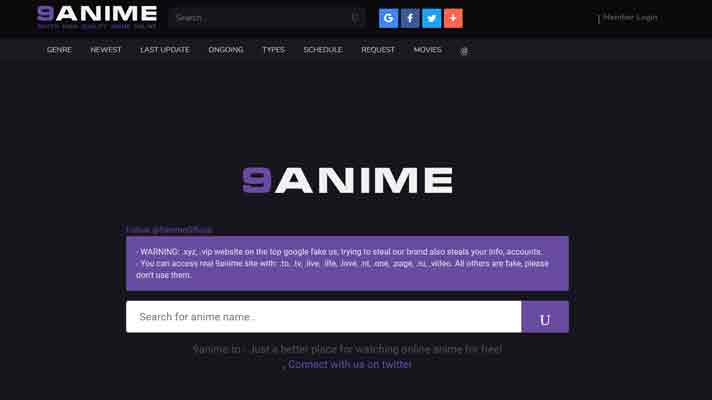 9Anime provides animes that are unofficial and pirated. Hence, many watchers are concerned about 9anime Kodi addons safety. However, these addons are not much related to the site. You can stream the shows online without any worries.

AnimeFreak is more of a Japanese style colorful personal blog-like website. The website holds a lot of information about Anime.

It releases daily updates of new series and mega comics for its users. You will get some best English dubbed anime shows.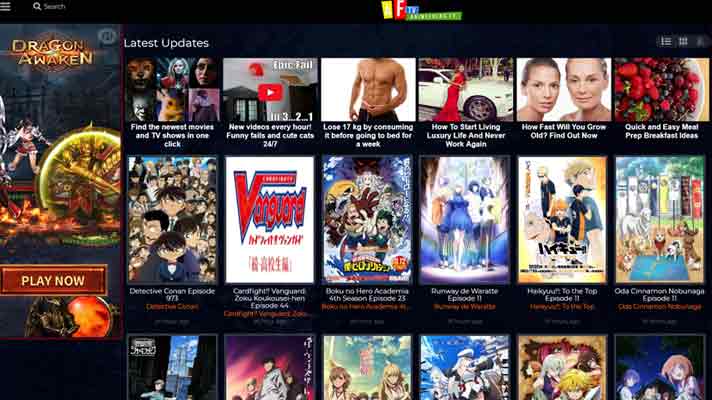 Viewers not only get attracted to its bright Japanese style look but also because of the shows it offers. Only the paid version of this site is legal.

First of all, Hulu offers not only anime shows but also Hulu's originals, movies, and sitcoms. All the episodes on Hulu are in HD quality.

However, Hulu does not offer free streaming. You have to buy the membership to watch the shows. As they are offering Hulu's original shows, membership money could be worth a shot. You can also stream the shows on your mobile phone.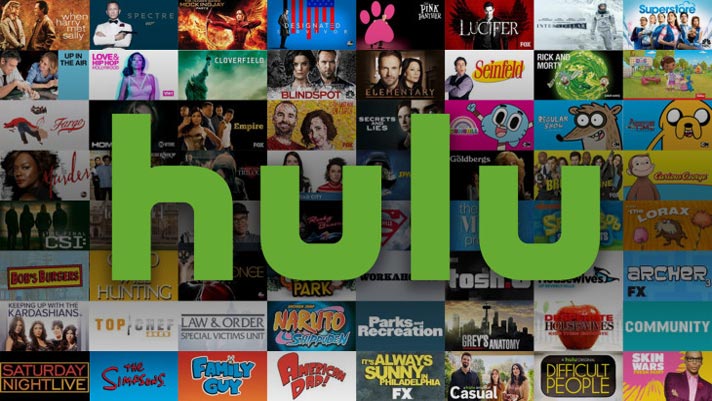 A disadvantage of Hulu is, its not available in some parts of the world.

MyAnimeList is another amazing anime streaming website. The site lets you watch your favorite shows for free without any ads.
The user interface of this website is quite user-friendly. It has different tabs like Anime tab, the community tab, store, and much more. Under the Anime tab you will find more tabs like Top Anime, Seasonal Anime, Videos, Reviews, Recommendations. Hence, searching for a new show or a favorite show is much more comfortable.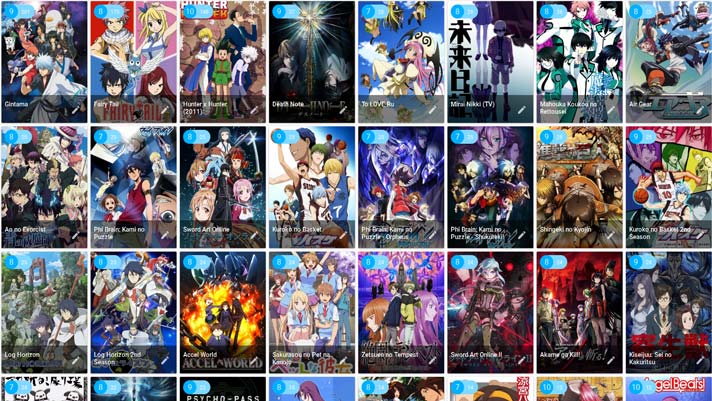 This website also shows the rank of the series/show, along with a short description. You can enjoy English subbed shows on MyAnimeList.

Tubi TV is one of the viral platforms for anime shows. The quality of videos is impressive compared to other websites. You will also get to enjoy subbed and dubbed versions of your favorite shows legally.

However, Tubi TV offers a very limited collection of anime shows. The shows they provide are worth watching. But you might not find some well-known anime in their collection.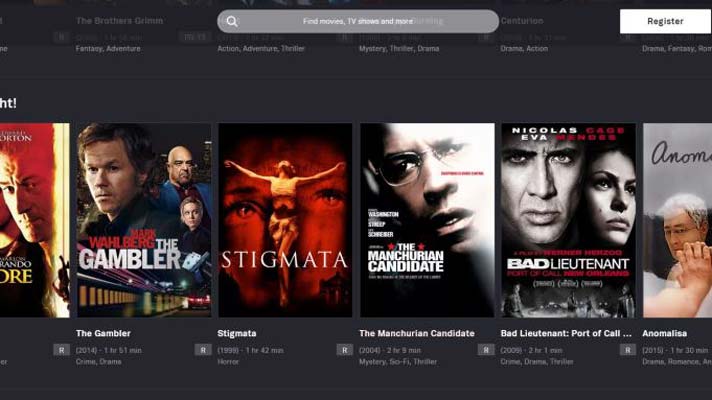 The website has a dark mode for eye comfort and a user-friendly interface. Tubi TV is 100% free and legal.

AnimeLab is one of the best Free Anime streaming websites. The amazing thing about this website is you can stream shows on any device. Other than laptops and smartphones, the site works fine with Apple TV, Apple airplay, Google chrome cast, or Samsung TVs too.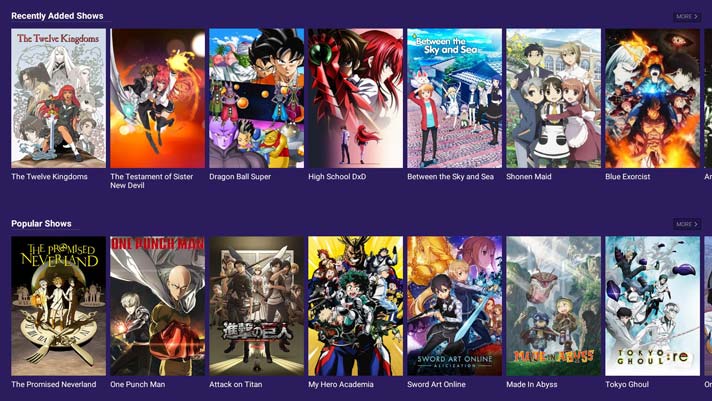 AnimeLab is available in both Free and Paid versions with no ads. You will be able to enjoy shows of different genres. You will get an option of English audio instead of subtitles. It's suitable for kids watching Doraemon and slightly young kids who watch Dragon Ball Z. The paid version of AnimeLab is legal.

Anime-Planet is one of the biggest anime sites started by a single admin and a small group of volunteers. This website has a collaboration with Crunchyroll to bring best and high-quality Anime shows for fans.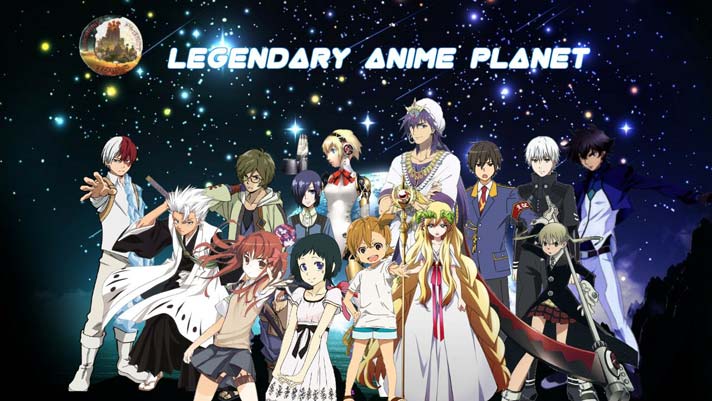 The website lets you stream your favorite shows and provide some information about the show. One of the fantastic things about this site is you can connect with new friends who are anime fans like yourself. You can follow users with the same interest and recommend new shows to each other.

You can also join the team of Anime-planet and contribute to the site.

Animeheaven is one of the top sites to stream anime shows with a big collection of series and movies. You can pick dubbed shows, series, and popular-today shows.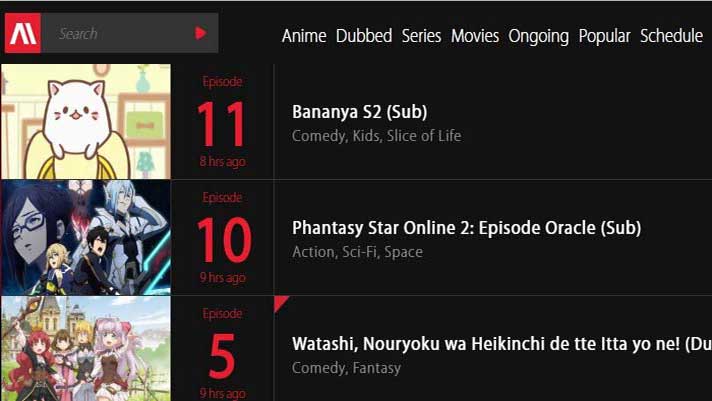 You can also schedule the shows to watch. From the filer options, you can browse and watch your favorite anime series and enjoy the English subbed and dubbed versions as well.

The website has a dark mode for eye comfort and has a user-friendly interface. Animeheaven is not a legal site.

MasterAni gives you free and unlimited access to a lot of anime series and movies. You can even browse shows from different genres.

The quality of the videos on MasterAni is considerably good. The shows are available in English subtitles. This website shows reviews of the show and has a quiet eye-catchy interface. You can stream the shows free but have to tolerate ads.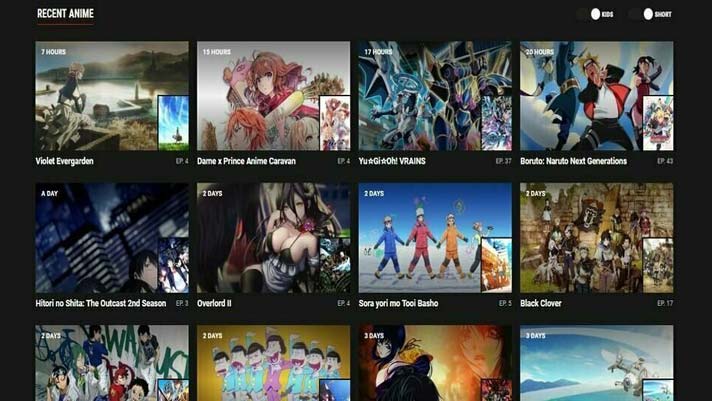 It's possible to change the name of the server and watch unlimited animes online.

Kuroani allows users to stream the best anime shows for free without ads. The website isn't much famous but can be considered as one of the top anime sites.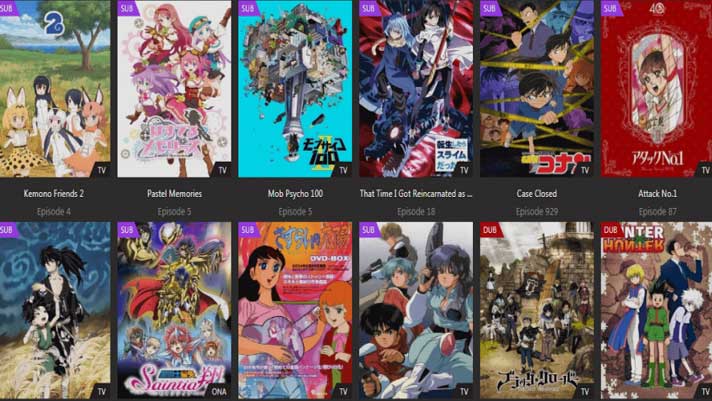 A non-profit organization owns this site and provides free content to users. The user interface and layout of this website are simple and understandable to anyone.

Video quality on the Kuroani site is satisfactory.

Anime Frenzy has a vast collection of Anime from different genres. You can pick a category of Movies, Cartoon, Anime from the menu.

The site shows ongoing anime categories. Under the category named 'Random,' Anime Frenzy shows random recommendations of anime shows.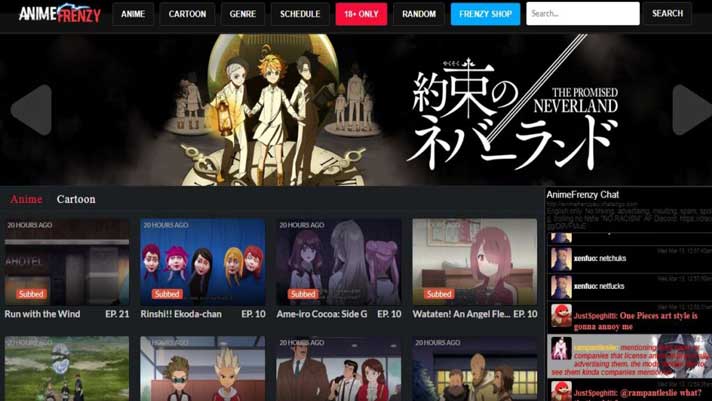 The site shows the latest collection of shows as it updates daily. Finding your favorite show with Anime Frenzy is effortless and user-friendly.

For all the anime fans, this is an excellent website. You will find almost all the famous anime shows on this site, that's why it's a famous site amongst anime fans.

Compared to other free streaming sites, Chia-anime shows fewer pop-up ads. Even though the site is Japanese, all the episodes are English dubbed. Chia-anime gives proper names to all episodes to make its arrangement comfortable for users.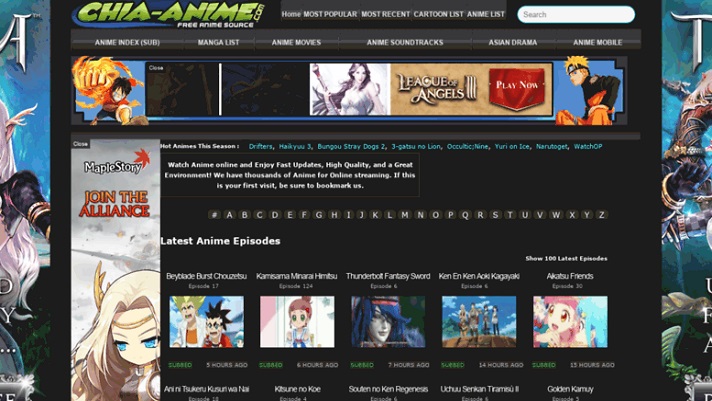 You will also find Mega comics and anime soundtracks on this site, but the site is not considered as legal.

Crackle is owned by Sony and is one of the popular sites among anime fans. The quality of the videos is top-notch.

Crackle also offers TV shows and non-anime movies for free. You will get an ad-free experience with crackle and enjoy a variety of shows.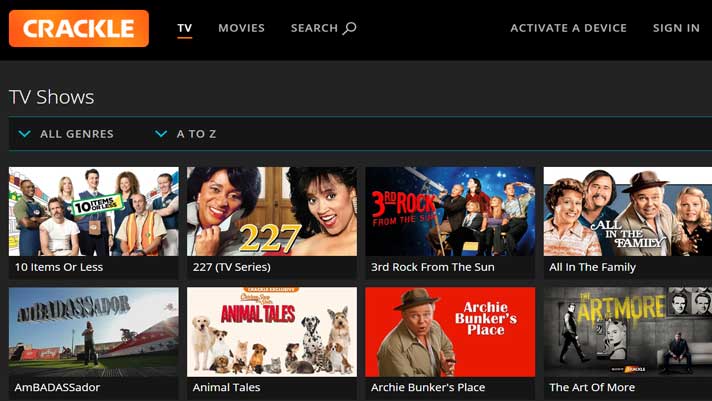 This site is not available in all the countries, that could be the only disadvantage.

The reason this site is not in the top 10 for the best Anime is it has fewer anime shows. The site offers free anime series and movies. However, the content for Anime shows it a bit older here.

Viewster has more of non-anime shows, but provides a decent collection of Anime shows too. This site could be more suitable for beginners in the world of anime series.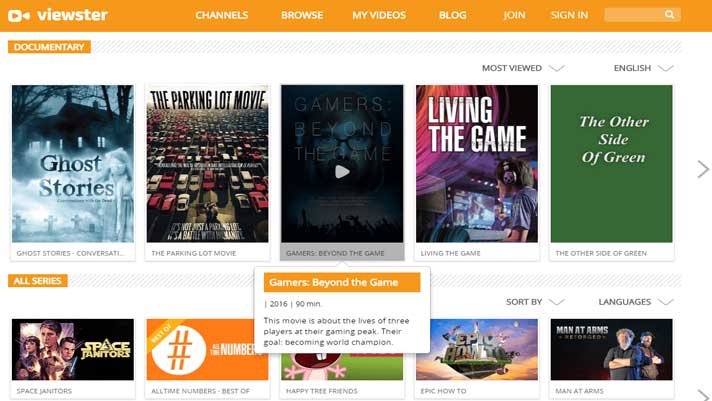 The frequency of ads is quite less on this site. Viewster also offer English subtitles for shows. It has a mobile app too and provides Anime from different countries.
Its website now redirects to another streaming service, called CONtv that's offered by the same company that purchased Viewster.

AnimeBam owns a massive database for anime series. You will find almost all famous anime shows and much more on this site.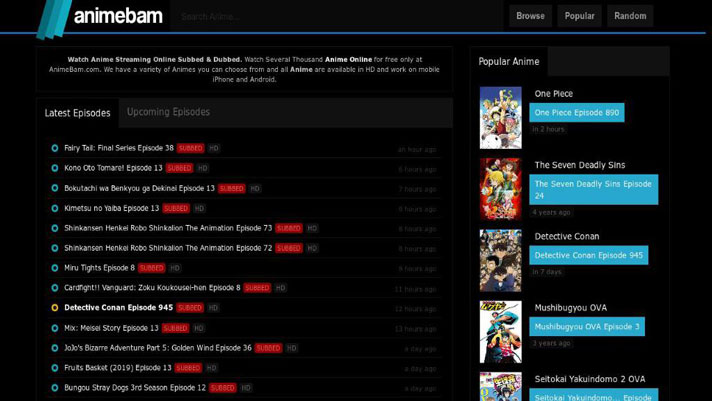 This site could be best for beginners too because of the broader options of shows to watch. AnimeBam has a simple interface for users to browse easily. The site even marks green for dubbed shows. Hence, it's much more comfortable to find dubbed shows on this site.

To watch the latest anime shows for free, Anilinkz is for you. They only offer ongoing anime series with an easier user interface on the website. So you won't find older anime series on this site.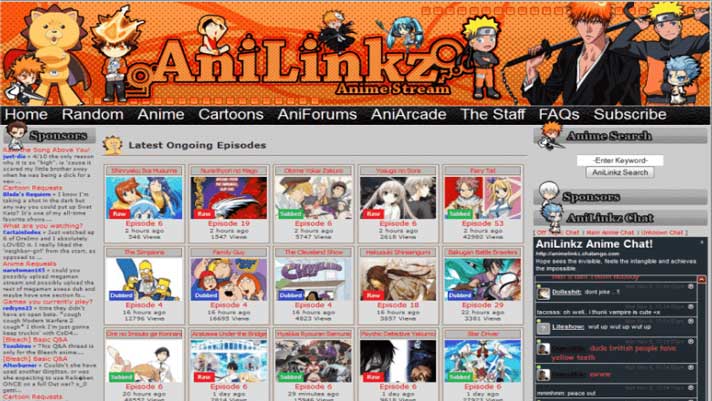 They show the latest arrivals of anime series in the form of thumbnails on the home page. Watching the latest episode is just one click away.

Anilinkz is trying to build a community of anime lovers by offering a discussion window with the current playing episode. The only annoying disadvantage is it shows a lot of ads.

People call this site a dictionary of Anime shows. It's one of the best Anime streaming sites with a vast database.

It has a drop-down menu for shows arranged in alphabetical order. For beginners, this site might not be ideal as it offers a lot of shows. But for experienced anime fans, this could be a treasure.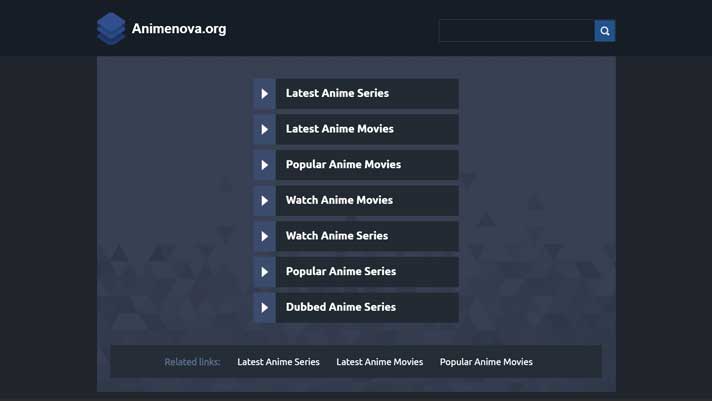 Animenova has no account limit. But the biggest problem is it does not have a search bar. Finding what you need in a massive database could be time-consuming.

These are the best 21 anime streaming sites. It's fascinating how much shows and movies they offer. Some of them are free or paid; you can pick whichever suits you the most.